In the bunny hole...
Sunday, April 26, 2009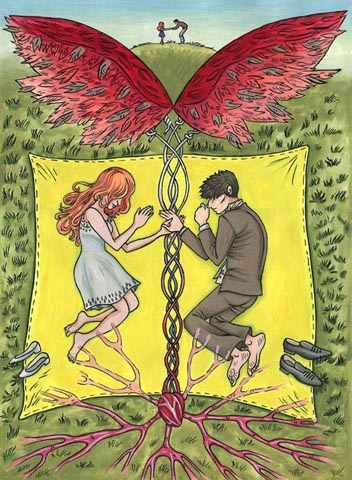 It snowed for the 19th time here in South Dakota last night, which means all of my plans today were trumped, allowing me to sleep 'til 11, make giant, fluffy pancakes at noon, sip hot chocolate in the afternoon and spend $63 on a ticket change so that I have time to visit Ireland and London for a week each come the end of May. 
Additionally, I've been flying through
The Time Traveler's Wife
.  A friend had recommended it to me over six months ago and I finally picked it up in Phoenix Sky Harbor on my way home from a wedding. 
It's romantic, honest and out of the ordinary.  I smirk at small things in the book that remind me of certain nuances in those I love and feelings that spin about in my heart and mind. This is surely a sign of good literature. 
Now 302 pages in,  246 to go, two passages emulate my feelings perfectly - whether they be then or now or maybe some day I have yet to experience:
(pages 122-123)
I haven't seen Henry in almost two months; the next date on the List is three weeks away.  We are approaching the time when I won't see him for more than two years.  I used to be so casual about Henry, when I was little; seeing Henry wasn't anything too unusual.  But now every time he's here is one less time he's going to be here.  And things are different with us
.

 I want something... I want Henry to say something, do something that proves this hasn't all been some kind of elaborate joke.  I want. That's all. I'm wanting. 
"One minute we had everything we could dream of, and the next minute she was in pieces on the expressway." Henry winces.
"But don't you think," I persist, "that it's better to be extremely happy for a short while, even if you lose it, than to be just okay for your whole life?"
Labels: literature