Rock it Like Pat Benetar
Monday, February 26, 2007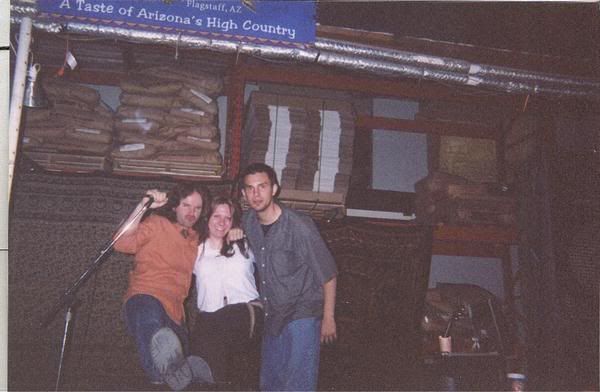 An old friend recently posted the above picture and it reminded me of quite possibly, the easiest "independent" time of my life.
Of course we have senior year of high school, second semester where I attended class(s) from 10 - 12:30 (serving as Photo Lab Assistant 2 days per week), not working - basically hanging out - but I don't constitute 18 and living with your parents very independent.
And so that photo is circa May 2003: The summer I wish I would have stayed the F in Flagstaff. I'm telling you - hanging around crude Mr. Horan and Simison was actually setting up to be a pretty hilarious summer. Plus the Monsoons...
I had ONE (Count it ONE) Summer Course where I would go to "Journalistic Editing 201" on South Campus from 9:30-11:30 five days a week for three weeks straight (which is still how I believe all classes should be structured year round). I lived in some Sophomore dorm smack dab in the middle of campus with no roomates - just a huge ass room to myself.
I befriended this Casey dude in class (who was also a Pisces) and we would walk to Coldstone about twice a week and talk about relationship shit and all that other cool stuff. He was really cool... i'm wondering what happened to him...
When I was out, J and Jeda bones would pick my ass up at my dorm and we'd:
a: drive to Vegas for Spur of the Moment Concerts
b: go eat chineese food and hang out with awesome musicians
c: go to the raging homosexual dude at the hair salon [J (used to?) perm his hair] and get beautified
d: drive out to the middle of nowhere in a Safari van and find untreaded territory and cool spots in bizarre Flagstaff Locations (one including a gorgeous Rainforrest area - which is still one of my favorites)
Man... seriously - fun! That above photo was actually taken at the
Mogollon Brew
(me thinks?) with
Michael Kelsey
who, to this day, is still one of the coolest guys I know (i'll forever me his Flag Merch Girl). Humble, Talented, and cool enough to construct a platform in his van under which to store his music equipment, as well as store a blow up matress on top of - so that he never had to intrude on people for a place to stay.
I'm just thinking now:compared to working 45+ hours per week - worrying about mortgages, a crapped-out car - how to afford this, how to afford that, how to knock it all down with a wiffle ball bat - and it makes me feel like all you people in college have got it real damn good - and i hope you enjoy it (but don't take advantage of it for like, 8 years...). I miss living in a quaint room with nothing but my favorite clothes, and my computer - I was never home - I was out having fun. All the time in the world to work out - bring sexy back and take naps in the afternoon.
I hope you realize - and hopefully aren't drinking it away into a murky fuzz (well, not every day, at least).