Miss Me?
Wednesday, October 31, 2007
I know you did!
Shame on me for slacking - but I've been busy to boot and have lots of fun things to tell you... So let's get started - cram session style:
Saturday
I drove out to the airport to pick up a good friend of mine... we even got to see crazy Boston fans complete with Face Paint driving back into town. They scared me. I think they scared the Rockies, as well.
We headed into the batcave (parking garage below the Pavilions downtown) and ran straight into Saw IV. Gory. Grossness... and most notably, including Joey's Twin from Friends (pictured left) as the bad guy and
Luke Danes (Scott Patterson)
from the Gilmore Girls (I wonder if GG Creator was trying to channel General Hospital's "Luke and Laura" har har har...)
SHOCKER! They are really high budget!
We headed over to the Cherry Cricket for Burgers and a really good inning of Baseball... We smoked 5 points in one inning --- headed off to Herman's Hideaway to support Flash Mob and watch the Rockies Loose (ooooh. sad). We got to see
this guy
dance.
Sunday
Awesome times 12.
Lars and the Real Girl
(Helloooooo Ryan Goseling!). This movie was so good. I pretty much cried. And laughed a lot. And really think you should good. Ryan is amazing. So serious, but able to make fun of himself at the same time. In turn, I'd like to offer him my hand in marriage should he be so interested. I'm really cute and stuff...
Sunday evening continued with hot fest 2007. Matt Nathanson. If you haven't heard of
Etown
- now's the time to start listening. This weekly one hour radio show is aired on over 230 commercial and non-commercial radio stations around the world. Totally non-profit and completely awesome. I was thrown back about 80 years and got to feel what it must have been like to attend a live Radio Show. Matt was hilarious. Ian Ball (Gomez) was awesome - the two shared a love of 80s mullet rock and closed the show (full of interview and music) with Def Leapard's "Are you Gettin' It." I had SO MUCH FUN... And Got to see Matty, too: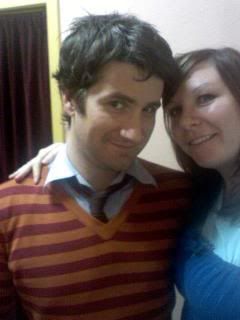 When we drove home - we were a little bummed... because we found out Rockie's were swept which meant no World Series for us. BOOOOOOO. Major Bummed... but I guess I would haver rather had that then be at Game 5, when Boston probably would have won anyway - and had to suffer through Riots.
Monday
Instead of the World Series - we went to the Botanical Gardens. Sad - because I told my friend a million times it was so beautiful (although I had never visited) and we ended up paying $12 a piece to walk around for two hours in complete death. The
Chapungu Art Exhibit
(open til Feb 29, 2008) was amazing - very impressive) but I would have loved to be at the Art Museum instead... Who knew it was closed on Mondays.
So we dressed up in our Halloween Costumes and drank way too much at Jose O'sheas - while the hostess enjoyed some stick up her ass, but our waiter rocked casbah. I haven't had that much sugar in a long time... I completely paid for it ALL day Tuesday.
Of course drunkeness and pictures leads to this in the parking lot: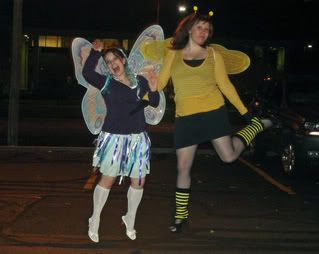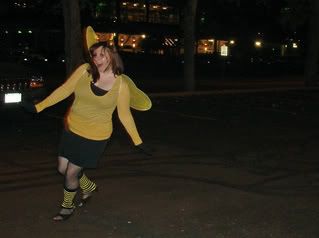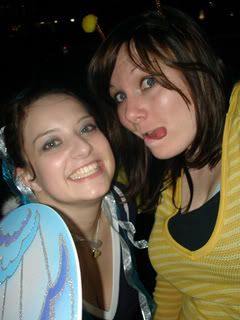 And then heading back down into town just in time to meet Jesse Carmichael from Maroon 5 outside of the Fillmore: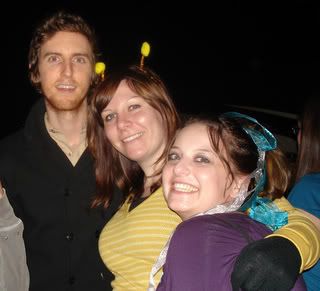 And parouse Miss Kitty's on Colfax.
We then made the dumb mistake of renting
High Tension
.
If you want High Tension - this is what you'll get. We couldn't sleep. I had to put the movie in the Freezer. Do not rent this. Just... don't do it.
Tuesday was sad. I had to say goodbye to my friend. Tear.
Then I had to feel like crap the rest of the day because of the sugar pile in my intestines. So gross. I won't drink Margarita's for a long time... I did get to darken my hair again in the afternoon, then crawl into bed with The Frighteners until I fell asleep (which I've actually been able to do really easily the last week. Yessssss).
I know Britney's new album came out yesterday. I didn't pay much attention. I'm sure everyone else did for me tho.
Today is halloween and i haven't had a sliver of candy (still recovering from yesterday) - but I am wearing fishnets and feeling cute enough to be out... So I"m spending the night with some quality people and calling it good.
I hope all of you have been well and have been keeping busy. Sorry for the big gap in posting, but I told you I'd make it up to you!
Labels: Everything