Singing in the Rain...
Sunday, October 21, 2007
I sing in the shower.
Loud.
And my little furry friend, Maynard Fergeson here, likes to listen --- and his best listening spot, appears to be with his head stuffed inside of the shower curtain, like so: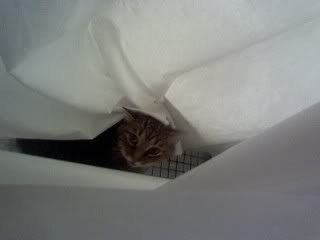 He sings along sometimes. Just one of the reasons why I love this squish butt so much.
The funniest thing about this picture, is of course - that it means i shot this naked! haha.
Hope you're all enjoying this strange-weathered sunday...
Labels: Random