New Music/Movie Tuesday
Tuesday, October 9, 2007
OK... So every week or so - I run into a new friend of mine that says he's a loyal reader and always has something controversial to say about my music reviews (Mostly that he disagrees with everything that I say :)).
So, Mike... In honor of you - let this be considered "Opposite Day" or - "What Mike Thinks" Music Day...
And we'll see if we get this one right... (don't get used to this, buddy. hahahaha).
OH and PS - of course I"m going to be openly Mock-y! Enjoy!
9th Wonder - Dream Merchant Vol. 2
Soul
This is awesome! 9th Wonder mixes pure raps with classic motown and creates something you can get jiggy wit.
Band Of Horses - Cease to Begin
Healing & Easy Listening ?!?
This guys voice haunts me. In a great way. The voice seriously overpowers the instramentals... and clapping. This is something I'd put on when I'm cleaning the house. Or shining my shoes. I would expect to see this in the Memoir for Bret Michaels on VH1 someday... because this is just the kind of band he listens to while he's on the road... getting his heart broken by strippers.
Beruit - The Fly Cup Club
Folk / Indie / Other
*Yawwwwwn* Completely unoriginal. Uncreative. Not unique. This does not at all remind me of the Killers flavored with a little bit of 80s or a little bit of Spanish Flamenco Ballad Music!
Fiery Furnaces - Widow City
Rock
The drums on this album are magnificant. Or Magnificent? Can anyone say America's Most Smartest Model? Can't remember... This is just the right kind of rock band to get you in the mix for moshing and not too busy. A welcome departure from their last go round. Me Gusto. Mucho!
The Hives - The Black and White Album
Rock
If you looked up "Totally Unbitchin'" in the dictionary - The Black and White Album would be here. Take your $80 and spend it on a ticket for a ticket to Maroon 5 and the Hives and slap yourself for wasting your money. What the hell were you thinking?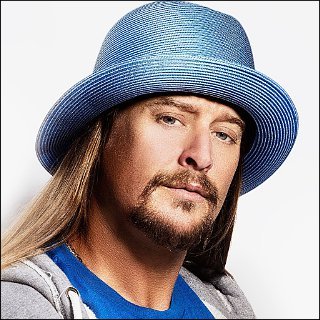 Kid Rock - Rock and Roll Jesus
Rock / Country / Southern Rock
In the battle of Tommy Lee and Kid - I hope Kid always comes out on Top. Hey - he was able to steel Pam away from him... His new single "So Hott" makes me want to dance around in leather pants. Kid is the god of Southern Rock.
Jennifer Lopez - Brave
Pop / R&B / Latin
Don't be fooled by the rocks that she's got - she's still, she's still Jenny From the Block. I lost respect for her around the time She hooked up wtih Marc Anthony. She ain't fly. Not even for a white guy.
The Raveonettes - Lust Lust Lust
Other
Brings back rememberance to the wall of sound... plus a lot of the 70s harmonizing. Simple instraments - country guitar. I love it. I"m not at all bored by this.
LeAnn Rimes - Family
Country / Pop
Very upbeat and... starting to sound a little bit like Reba McEntire. That's a definate "A OK" in my book... because as we all know - Reba has probably the best voice EVER... I wonder if it has something to do with her Sweet Show on the CW - and the fact that she completely RULED on Kelly Clarkson's song, "Because of You."
She Wants Revenge - This Is Forever
Other
Bad Beat. Striking Vocals. Perfect for the Hipster Crowd who still loves Cure...Not those that just Loved cure - which happens to include me :).
Robert Wyatt - Comicopera
Progressive
I have a feeling people who like Phish would love this album. Mike - I don't know if you like Phish - so let me take just a moment to speak my mind for a second and say i f'ing hate Phish. and do not endorse this album... or the basement studio this album was recorded in.
Labels: New Music Tuesday