No... They ARE NOT!!!!
Tuesday, February 6, 2007
So anyone who's anyone cool knows and loves most movies made in the 80s.
My favorite?
Adventures in Babysitting (AIB)
.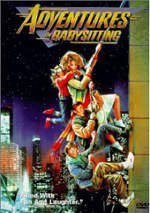 Samipedia Summary
: Hot girl get's blown off for a fancy dinner date by deuche - ends up babysitting kids - one of which is really into Thor, the other of which is a teenage boy with a massive crush and a horny best friend. All four go down to Chicago initially to get ice cream and help hot girls best friend who in a fit of impulse, decides to hit the bus station and run away --- Massive night of Murphy's law ensues.... and they got the blues... cause you know it's hard --- babysittin' theeeeese guys.
CLASSIC. -
You don't
remake
a classic. When referring to the 80s, the following are under a remake protection clause:
The Princess Bride
Ferris Bueller's Day Off
Top Gun
The Indiana Jones Trilogy
Wierd Science
Sixteen Candles
The Breakfast Club
Footloose
Back to the Future Trilogy
Say Anything
Adventures in Babysitting
!!!!
This includes Television Adaptations as well...
Ferris
didn't work (Jennifer Anniston
Can tell you why
) - and neither did AIB (i'm guessing it had something to do with
Brian Austin Green
and
Joey Lawrence
).
Under no circumstances will any motivated young film maker/director try to make it better, newer, more viewer-friendly. No. NO! If anyone even touched Back to the Future, I'd kick them in the crotch.
Well apparently
Disney
missed the memo, because
they will be putting out a brand new 21st century production of Adventures of Babysitting
starring none-other than:
Raven Symone.
Greaaaaaaaaaaaaaaaaaaaaat. You just ruined my month.
I'm sure they'll try to get a special appearance by Elizabeth Shue as "That's So Raven's" interacial white mom and get some equally obnoxious child actress to play the obsessive Thor chic - except she won't be into Thor- she'll be into the Cheetah Girls. And her best friend can be Hannah Montana and Disney can continue to churn out too young, too obnoxious, child actors that they're marketing on an hourly basis.
RUBBISH! I'm sure
Chris Columbus
is singing the "Lame-ass Movie Blues (baby baby)"