Snope of the Week
Friday, February 9, 2007
Which one is True? Which one is False? Have some Fun and Make your Guesses....
Story #1: 50 Cent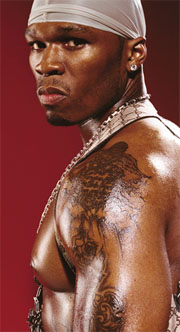 Claim:
: Rapper 50 Cent Underwent Emergency Surgery to reattach a hand severed by a car door.
Tuesday, January 18, 2005 7:47 AM ET
LOS ANGELES, California (AP) * Rapper 50 Cent underwent emergeny surgery last night while doctors tried to replace his left hand.
The superstar rapper, also known as Curtis Jackson was outside of the Glass house nightclub early Tuesday morning when the Lamborhini Doors on his Escalade slammed down on his left hand. Eyewitness reports claimed that it may have been a gust of wind, but some say the vibration from the speakers in his Cadillac may have cause the Lamborghini door to slam shut.
Paramedics rushed Jackson to the USC Medical Center, where emergency room doctors tried to reattach Jackson's left hand. Unfortunately, the blood loss was too severe, and they were unable to salvage Jackson's hand.
The operating doctor was not available for comment, but the hospital did release a statement. "Our medical staff performed beyond expectations in an attempt to prevent the loss of Curtis Jackson's hand. It's an unfortunate accident, and we hope to help Mr. Jackson through the trauma and rehabilitation," signed by the president of USC Medical Center.
Jackson's debut album, "Get Rich or Die Tryin'," sold over 3 million copies worldwide. He is signed to Eminem's Shady Record label under the INterscope umbrella. He has a new album slated for release this March titled, "The St. Valentine's Day Massacre."
A comment from his label was unavailable at press time.
------------------------------------------------
Story #2: Beheaded for TroubleClaim:
A cuckolded husband presented his wife with the head of her lover.
FULDA, Germany, Dec 8 (AFP) - An American soldier cut off the head of his pregnant wife's lover and put it on her bedside table in the hospital here where she was about to give birth, a spokesman at the German public prosecutor's office said on Wednesday.
The angry husband struck on Tuesday when his rival, a fellow GI in the American 11th cavalry reigemnt, was phoning the woman from nearby Sickels military airfield.
The first soldier (Schap) cut off the second one's (Glover) head with a knife, then drove to the hospital and showed it to his wife and left it there. The victim just had time to call down the telephone,"Your husband is coming," The German sources said.
An American army spokesman confirmed a decapitated body had been found in a telephone box at the military airfiled. U.S. military police held the first man for questioning. He was not immediately named.
The door bust open and there stood Stephen Schap (her husband) carryin ga head Gym Bag. "He had the sports bag over his shoulder, and it looked like it was full," she said.
It was. Her husband reached into the bag, she said, and pulled out Glover's head.
"He grasped the head in both hands and he tried to push it in my face. I kept screaming and screaming."
"Look, Diane - Glover's here! He'll sleep with you every night now. Only you won't sleep - because all you'll see is this," Shap told her.
For your answer - go check out
Snopes
.