New Music/Movie Tuesday (9/25/07)
Tuesday, September 25, 2007
Ah... Finally some good music! Hahaha. Taste is in the ear of the beholder - but some good, solid stuff this week. Most Titles/Artists are Linked to their Myspace Pages because they have their full albums up - so take advantage if you want to listen - and if you want just a quick review without the fluff --- well, that's what you have pretty, ol' me for! :)
Let's start out with some brief announcements tho - because who knows if you'll make it to the bottom of this ---
New House Tonight
- Yess. Maybe it's the drug addiction. Maybe it's the bitchy attitude. Maybe it's the whole riding a motorcycle with a cane thing and my affinity for scruff - but DAMMMMNNNNNN Hugh Laurie is a babe!
Matt Nathanson
is featured on Single of the week on iTunes - so as you've heard me talk about this a million times over - why don't you just download the fricken single for free already!
Knocked-Up on DVD today
- which I rented at the store this morning before it could be taken. Yesssss... Now, you, too can watch the appauling crowning of a babies bald head as many times as your little heart desires. *sigh*
Two new Episodes of Murder Tonight
"Gutted" and "Burning Flesh"
. The Flesh Episode is All-Star. I'm excited!
Athelete - Beyond the Neighbourhood
:
Alternative - You have to love those English Bands that spell everything "or" with an "our" (Neighbourhood, colour, favourite etc.) - I bought
Vehicles and Animals
in 2004 when
Howie Day
recommended it as one of his favorites, and although I've been disapointed by the direction Howie Day has taken his crap career - Athlete was exceptional.
Beyond the Neighbourhood
is just as upbeat and solid as their last album - a little Techtronic - smooth vocals and enough creativity to exclude you from being emo. Those Brits know how to do music. Especially in 2007. Go Get it!
Devendra Banhart - Smokey Rolls Down Thunder Canyon
:
Folk / Indie - The cd starts out sounding like a music box - and continues with some melodious backdrops that remind me a little of something you'd hear in a foreign film or another remake of a classic Shakespeare Play. Very mellow album with a little bit of. Samba Vexillographica gives us a little spanish tongue and Devendra layers the calm with a little bit of crooning with just enough crying in that voice of his (think ... dare I say... Jeff Buckley-esque - tone not quality).
The Bled - Silent Treatment
:
Rock / Indie - I know what you're thinking. Uppity 70s feel-good band,
The Bled
! No no.. you guessed it. Heavy, bang your head in a mosh pit music - or by yourself because you're girating so violently. Some good Solid Metal and great beats on this. It got me movin, for sure. Also great to turn up to volume 32 in your car and just rock that angst out.
Cave Singers - Invitation Songs
:
Indie / Folk - Indie Hipster suite out of Seattle, WA. Unique Voice - reminiscent of 1970s folk-singer. Drum Beats like a train. Go listen to their tracks and if you're interested, hit up
The Hi-Dive
this Saturday night. Bring your tamborine.
Che'Nelle - Things Happen For A Reason
:
R&B / Pop / Reggae - Debut Album. She's a whole lotta reggae on her single (Fell in Love with the DJ) and sounds like something you'd hear at a skating rink. Another track (Can't make you love me) is solely accapella. She is already hugely popular in Australia (makes sense) and is hitting a tour with Kanye - so lets hope she benefits from the exposure - and not his attitude.
Melissa Etheridge - The Awakening
:
Rock / Pop / Country - Classic Melissa. Her fans can always rely on her for consistency. The new album delivers and stays true to her sound. - with a lot of rhyming :).
Freeway - Free at Last
:
Hip Hop / Rap - Totally dig it. Reminds me a bit of Jurassic 5 - in that they sample some sweet jazz tracks. Legit hip hop with some pretty good rap layed on the top. Big Spender features Jay-Z (yesssssss....) and as much as I thought I'd hate this - I don't - tho the repetive shout out to DJ Cannon (understandable) gets a little repetitive...
Foo Fighters - Echoes, Silence, Patience and Grace
:
Rock - Dave Grohl has gone far and beyond in the music business - and brings his signature to pretty much any project he participates in - but it seems he sticks to the reliable with any other band - which is usually good - because we all know what happened to our favorite band who tried something new and failed! :)
Herbie Hancock - River: The Joni Letters
:
Been around forever and still brining it on piano - bringing in several good artists to showcase his skills (rather than backdropping the instraments behind the voice). Look for Norah Jones, Tina Turner, Corinne Bailey Rae, Joni Mitchell and Leanard Cohen.
PJ Harvey - White Chalk UK: Sep 24
:
Alternative / Indie / Powerpop - PJ is comparatively getting more and more mellow over the years. Less rock guitar - more sing-songy whining. I don't like her new stuff. Go back to your old school stuff!
Jagged Edge - Baby Makin' Project
:
R&B / Rap - Baby Makin' Project is extremely accurate - so kudos for pulling that off. I can totally see a couple in one of those infomercials where Barry White is telling you how you could make lovvvvvvveeee by the fire, baby. That rump pumpin back and forth. Oh yeah, baby. You know it.
Matt Pond, PA - Last Light
:
Indie / Pop - More Cheesy than Indie --- This would have been good in the days of Pete Yorn or Snow Patrol (early 2000s)... but too late for its time.
Joni Mitchell - Shine
:
Joni Mitchell Never lieeeeeee. :)
Jose Gonzalez - In Our Nature
:
Accoustic - Sweedish boy - and not blonde in suspenders. Great guitar playing - wonderful mood music for a raining voice - except I'm kind of bummed to say that it's one of those bands where the music kicks ass and the vocal doesn't so much. May just be my taste.
Iron & Wine - Shepherd's Dog
:
Alternative - Maybe record companies should just start labeling Alternative music - 1960s/70s throwback. I thot Alternative meant.. Temple of the Dog, Stone Temple Pilots, Audioslave? Bring back the Postal Service.
Bettye Lavette - The Scene Of The Crime
:
Soul / R&B - Something I'd hear in a bad dive bar - until she started singing. Great voice - what the hell happened to your back-up musicians? Maybe it's just the production and she'd be awesome live- but the track available for tune-in was weak.
mum - Go Go Smear The Poison Ivy, Let Your Crooked Hands Be Holy
:
"Other" - Pretty. I was instantly drawn in by the piano (sue me for playing since I was 4 - but I still zone out when I play Moonlight Sonata) -- Very quixotic (ha!) and dreamy --- Kind of sounds like I'm playing Myst! hahahaha. I like it. Very Much. I think you will, too. Esp if you like any of the following: Postal Service sans lyrics, Radiohead, Sigur Ros. Turns out - Mum
is
the word.
Rascal Flatts - Still Feels Good
:
Pop / Country / Other - I've always felt like... there's something missing from this band. They're not bad - they've got great vocals - good melodies/harmonies... but their music always seems to be lacking the one thing that would take it from OK to Great (I think this is something required for Adult-Contemporary Country Radio Play...) - but I can't put my finger on it --- This album is no different.
Jill Scott - The Real Thing
:
R&B / Soul - A little Sex - A little Class - A lot of Soul.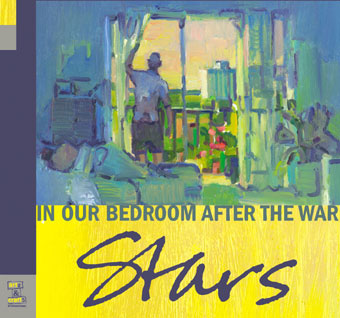 Stars - In Our Bedroom After the War:
Melodramatic - Fairly weak in appeal - just wimpy overall. If you like wimpy - go for it. Singer's got a pretty voice - Favourite book is a strong point.
The Weakerthans - Reunion Tour
:
Folk / Rock - Kind of Ben Foldish - but more indie hip. I love Virtue the Cat Explains - but then again - i love pretty much all waltzes or songs done in 2/6. At the Marquis theater this Thursday if you likey - you may see me there.
Will.I.Am - Songs About Girls
:
Pop / Hip Hop / R&B - Da Donque Da Donque..... She got a big ole' but. I love the way she move it. Come be my buttercup - and let me scoop it. Uns Uns... Uns Uns... I don't know so much if the question is will you like it? But more... Will you like it more than Fergelicious (She's on
I Got it from My Mama
). Those black-Eyed-Peas be so ambitious.
Tunng - Good Arrows
:
Experimental / Folk / Electronica - Hello, Brittish Accent. I don't.... love it. But you might. More Folk than anything else.
Labels: New Music Tuesday